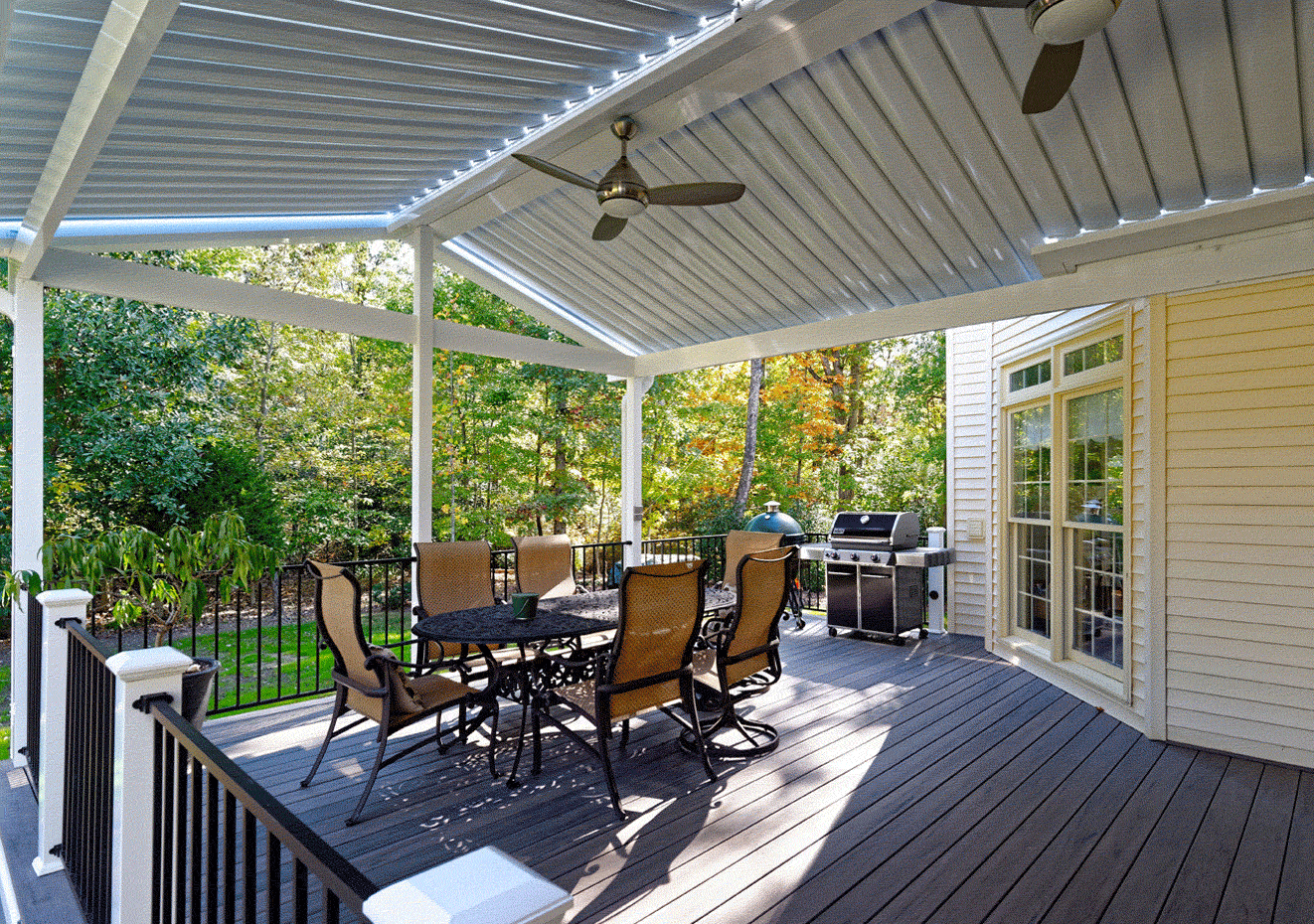 Enjoy subtle breezes, colorful foliage, and sun-splashed days while easily blocking out rain and harsh sun. Revolutionizing the way homeowners and businesses alike think of outdoor spaces, the Equinox Louvered Roof lets you have it both ways.
Constructed of high quality, ultra-strong, and rust-proof extruded aluminum for a seamless, smooth finish. The motorized, adjustable roof can be closed or opened with the touch of a remote control to let in the sun or seal out rain.  Customizable columns and colors let you create the backyard of your dreams.
Equinox Louvered Roofs meet all building codes, including snow load and wind load requirements, and are customizable for any home, yard, size, style or purpose.
Design options include:
Customizable Colors and Columns

Ceiling Fans

 Lighting

 Integrated Heaters

Sound Systems
Screening
Retractable Walls
Stone Veneer
Why Buy an Equinox Louvered Roof?
Seal out rain with watertight, closed louvers and an integrated gutter system

Adjust the louvers to let as much or as little sun as you want

Enjoy the outdoors during hot summers and rainy days

Confidently plan parties and events without worrying about weather

Expand your livable space at the fraction of a cost of remodeling

Reduce heating and cooling bills year-round without darkening the interior of your home

Stay green with solar-powered controls and eco-friendly materials

Durable, high-quality materials and construction are backed by a 10-year warranty

Equinox Louvered Roofs are the only louvered roof system tested and certified under Miami-Dade County Hurricane protocols
Miami-Dade County Hurricane Testing
Florida's Miami-Dade County sets strict standards for product performance in extreme wind conditions, including hurricanes. Equinox Louvered Roofs have been certified under these standards and are currently the only louvered roof structure to meet those standards.
To qualify, Miami Dade County requires that structural products such as Equinox Louvered Roofs withstand wind speed ratings up to 176 mph. Other increased safety standards also apply. The protocol requires a third party to approve a quality control plan and perform ongoing quality control inspections that make sure the products perform as tested.
The Equinox louvers have also been physically tested by an independent lab to withstand high wind pressure.  Wind pressure testing also validates how Equinox Louvered Roofs will resist other outdoor hazards, such as snow accumulation and earthquakes. This makes Equinox Louvered Roofs equally reliable in areas Florida, Michigan or California.